TYR on graphene
An example for conformers of tyrosine on a graphene cutout.
---
Conformational sampling of tyrosine on a graphene surface
To sample a tyrosine molecule at a graphene surface, the graphene sheet has to be constrained. All atoms in the graphene layer are constrained and removed from the metadynamics list. For a detailed guide on how to fix substructure parts see Example 4.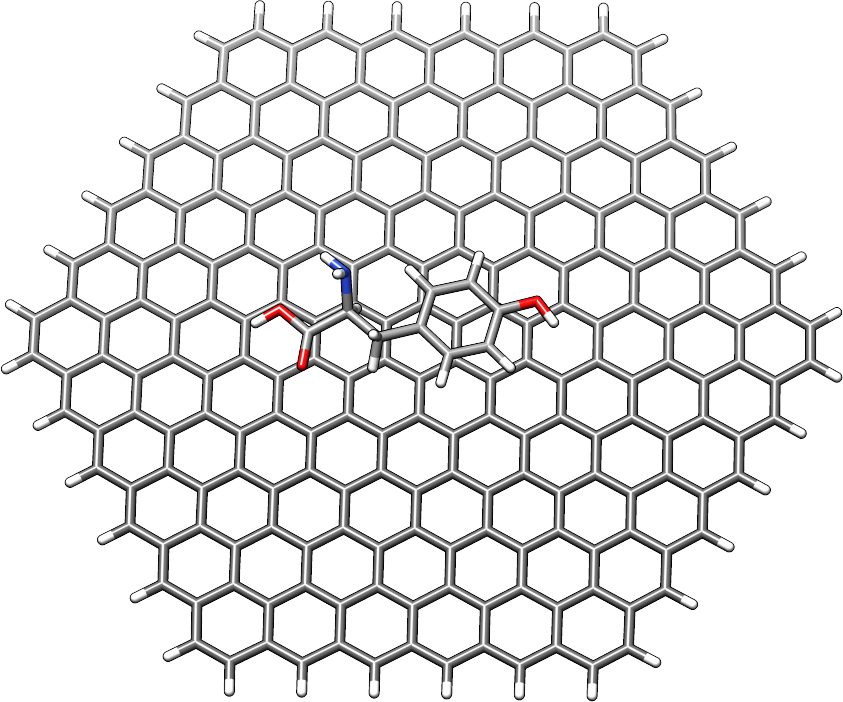 In order for the caluculation to be stable, some of the MD settings have to be adjusted. The SHAKE constraint is turned off (--shake 0), the timestep is reduced to 1 fs (--tstep 1), and only the unconstrained atoms are included in the metadynamics bias and structure comparisons in CREGEN (--subrmsd).
crest coord 

--subrmsd

 

--shake

 0 

--tstep

 1 

--cinp

 constraints.inp

$coord
    25.57030991921202   -1.29059115296523   -0.00598160501741      C
    25.57044241258889    1.28341269512943   -0.00397025649369      C
    23.26056590790795    2.70217665940709   -0.00029100251731      C
    23.24029402398585    5.32779404644931    0.00100734191172      C
    20.94157103860908    6.71653777403401    0.00350095166658      C
    20.91152361664611    9.36664222799565    0.00390218154564      C
    18.62125921494789   10.73533662251798    0.00644642379287      C
    18.58134086796354   13.40310199790359    0.00577252431633      C
    16.30144187186615   14.75441822463413    0.00911453357094      C
    16.24838174294015   17.43954219647988    0.00645557179198      C
    13.98481323267349   18.77014376357869    0.00996412506652      C
    13.91132086532623   21.47993962309619    0.00398308521361      C
    11.68223395792687   22.76705405593083    0.00667868517840      C
    23.23975279130400   -5.33474095446540   -0.00731302769541      C
    23.26029458648507   -2.70912180306862   -0.00467349937707      C
    20.93174016704535   -1.33727196043975   -0.00133108922934      C
    20.93188342707722    1.33055529046503    0.00081585427198      C
    18.61221093462830    2.68271748197896    0.00282646704916      C
    18.60800793365893    5.36022077189572    0.00464910445605      C
    16.29058723267624    6.70694827919018    0.00657403025646      C
    16.28436011426403    9.38628406493185    0.00875170443409      C
    13.96723583506467   10.73158318782874    0.01208246556117      C
    13.95992943220878   13.41187709257133    0.01391081920492      C
    11.64338138388279   14.75451471117306    0.01811199832376      C
    11.63248103339880   17.43948496412882    0.01741770073639      C
    9.32215273401024    18.77351998648383    0.02061202665840      C
    9.29861569072829    21.47602775444658    0.01579094470882      C
    7.01463133268908    22.77127484019967    0.01713945360400      C
    20.91057452024432   -9.37335860619177   -0.00926090528278      C
    20.94088299656363   -6.72324817926078   -0.00658702044546      C
    18.60745075594095   -5.36670680488450   -0.00374295822885      C
    18.61193643260484   -2.68920008796749   -0.00153341601501      C
    16.28742192884590   -1.34235637938395   -0.00078002692156      C
    16.28757499289433    1.33609346344897    0.00147976178734      C
    13.96434116375503    2.68237236768262    0.00076404228717      C
    13.96287174466134    5.36168711625019    0.00444321914007      C
    11.64121337713845    6.70589478724923    0.00506279531532      C
    11.63822495880011    9.38856356746231    0.01140806380708      C
    9.31876144361668    10.72973740054357    0.01538062834809      C
    9.31472052037413    13.41484574971875    0.02046267069700      C
    6.99521035114103    14.75419616780989    0.02462006312471      C
    6.99130768004798    17.44070137881147    0.02532754092530      C
    4.67042012951467    18.77581140475820    0.02736696446206      C
    4.66258399962784    21.47489924179938    0.02293852266839      C
    2.35249685077769    22.77391798267787    0.02212621551956      C
    18.57998109654765  -13.40958568048023   -0.01028264322867      C
    18.62015473984217  -10.74181472085148   -0.00815563904508      C
    16.28339497432454   -9.39252741923171   -0.00521520823422      C
    16.28988963380622   -6.71318737538808   -0.00404056626572      C
    13.96230713311354   -5.36770826591533   -0.00442097129394      C
    13.96405926362842   -2.68839552363364   -0.00377125200632      C
    11.63966160646814   -1.34407984382584   -0.00904818073003      C
    11.63980125609782    1.33828860894632   -0.00694514984261      C
    9.31718204611965     2.68076977770467   -0.01577395709023      C
    9.31651311270946     5.36383477266664   -0.00518866604770      C
    6.99345645543046     6.70626536261829   -0.00580602080543      C
    6.99238975005242     9.38889650419404    0.01018123529597      C
    4.66942445816832    10.73022469984729    0.01596892428477      C
    4.66767523754332    13.41536689488851    0.02498093342981      C
    2.34659451442003    14.75374729750557    0.02932151339149      C
    2.34541319267838    17.44224899252958    0.03052836779358      C
    0.02192747834666    18.77650769724976    0.03128547441315      C
    0.02204581702233    21.47485010389652    0.02595882570531      C
    -2.30827777761409   22.77415959011223    0.02256838460730      C
    16.24661075554111  -17.44578823181741   -0.01013734215265      C
    16.29993060120758  -14.76066846818401   -0.00812704005076      C
    13.95855696550417  -13.41788125850394   -0.00444039516866      C
    13.96612442985704  -10.73758744438051   -0.00414530231920      C
    11.63725550740641   -9.39433325364823   -0.00401359135821      C
    11.64051700131476   -6.71165587242432   -0.00602746222362      C
    9.31595899918277    -5.36940309841218   -0.01310009453262      C
    9.31693993550326    -2.68633606543353   -0.01891241488459      C
    6.99250858337540    -1.34364841298911   -0.04053087185396      C
    6.99262614528279     1.33843607842166   -0.04039634224145      C
    4.66829807447026     2.68060255606494   -0.05849331187865      C
    4.66838077810071     5.36444295219266   -0.02946711255395      C
    2.34546795808210     6.70546777798594   -0.02011056812930      C
    2.34548672067421     9.39005944206936    0.00792927448916      C
    0.02151160692621    10.73096229461900    0.01836028425584      C
    0.02166355850542    13.41525943333584    0.02919214654642      C
    -2.30314738868724   14.75399842979222    0.03371873327606      C
    -2.30170671357899   17.44247566484074    0.03391819200193      C
    -4.62657873721502   18.77628435247385    0.03298595758151      C
    -4.61848784408495   21.47537522910175    0.02560169171120      C
    -6.97041113719043   22.77198785523224    0.01911534529519      C
    13.90914113254730  -21.48594598108393   -0.01033584558689      C
    13.98290020369888  -18.77616131023010   -0.00756967293109      C
    11.63069926259142  -17.44525404116543   -0.00301796684893      C
    11.64186594877656  -14.76028958926714   -0.00225240122053      C
    9.31334018064636   -13.42037835388799   -0.00050064690806      C
    9.31765144447383   -10.73527777129347   -0.00273906743608      C
    6.99141240533732    -9.39419601810598   -0.00610150867183      C
    6.99273536257410    -6.71153949160536   -0.01572184076338      C
    4.66777019559512    -5.36946863827436   -0.03472958133329      C
    4.66784980463537    -2.68568430403884   -0.05767595376480      C
    2.34451914565195    -1.34413003433670   -0.08972846459708      C
    2.34456672574876     1.33936603534043   -0.08992506624553      C
    0.02090811162037     2.68094549890774   -0.08525730399650      C
    0.02111281557256     5.36367785785738   -0.04218166058112      C
    -2.30319003521588    6.70557418244421   -0.01593859385830      C
    -2.30260481415700    9.39011489524983    0.01310861544943      C
    -4.62640274973063   10.73069866586899    0.02658914458233      C
    -4.62436575510021   13.41584995240830    0.03462561586354      C
    -6.95176077190229   14.75491657239231    0.03775667851738      C
    -6.94759324240958   17.44141219089441    0.03541282761784      C
    -9.27832130444150   18.77446705578989    0.03155385525560      C
    -9.25452218190166   21.47696510552652    0.02154959462713      C
    -11.63802237495646  22.76822838541283    0.01080138060727      C
    11.67992598947008  -22.77283570051328   -0.00834317870550      C
    9.29642984746100   -21.48156460163871   -0.00342311682088      C
    9.32023206578185   -18.77906553363732   -0.00092512411397      C
    6.98952062190846   -17.44599854678769    0.00224945815385      C
    6.99369455574676   -14.75950793677676    0.00199456075935      C
    4.66628544326049   -13.42042472957629    0.00282443615400      C
    4.66831941671158   -10.73531049956183   -0.00294605654817      C
    2.34450022003777    -9.39484861167554   -0.00889347428569      C
    2.34477736575761    -6.71029850254746   -0.03096748479269      C
    0.02065664441757    -5.36823814102908   -0.05222779425988      C
    0.02061674289975    -2.68553888940278   -0.08961100122795      C
    -2.30299554292030   -1.34344598487105   -0.09950976794014      C
    -2.30319722664585    1.33939473396005   -0.09532505353303      C
    -4.62645210980409    2.68061978914947   -0.05798804837452      C
    -4.62592518953837    5.36451283149119   -0.02208304225800      C
    -6.95072782946171    6.70669485989158    0.00967601306812      C
    -6.94947330532319    9.38953936851952    0.02696512792323      C
    -9.27574242491885   10.73068901863044    0.03718718622128      C
    -9.27141379657199   13.41578622554120    0.03931193737819      C
    -11.59995375468507  14.75568934423370    0.03834655662908      C
    -11.58877757429171  17.44065888647631    0.03293785817032      C
    -13.94098976946021  18.77156069186492    0.02430444214536      C
    -13.86724120028323  21.48133630468718    0.01214297052796      C
    7.01231720722008   -22.77658999388850   -0.00234006341816      C
    4.66040268911371   -21.47996607848377    0.00149181176170      C
    4.66849920833472   -18.78088401746963    0.00410568098744      C
    2.34362579491293   -17.44706779691327    0.00732146583161      C
    2.34509777768419   -14.75858471586755    0.00661811589677      C
    0.02028392358822   -13.41983766357279    0.00843653412321      C
    0.02050662171032   -10.73558661940989    0.00002898659539      C
    -2.30349117838812   -9.39454231555052   -0.00245205581730      C
    -2.30350991959969   -6.71005844253269   -0.02941602752182      C
    -4.62622443840555   -5.36874676215761   -0.03339361896089      C
    -4.62650481553786   -2.68454342562240   -0.06664464865120      C
    -6.95049914154748   -1.34244318587018   -0.04326062400016      C
    -6.95043569298580    1.33935803756183   -0.03810525832948      C
    -9.27475807064032    2.68135774100712    0.00335843660259      C
    -9.27401005373146    5.36440016522786    0.01761393597950      C
    -11.59852572618544   6.70690244044816    0.03545842727655      C
    -11.59534413604804   9.38968030507132    0.03945412688912      C
    -13.92419966778032  10.73297991596710    0.04141994881670      C
    -13.91662865975980  13.41327668844807    0.03865675473779      C
    -16.25801492154542  14.75606396381730    0.03212117250559      C
    -16.20469944992586  17.44118390075484    0.02432958007744      C
    2.35018218883491   -22.77875927049968    0.00177025449622      C
    0.01987365230978   -21.47944426320008    0.00582018048558      C
    0.02001514518240   -18.78110077644122    0.00951761696719      C
    -2.30348552201410  -17.44684739525803    0.01399120066082      C
    -2.30461353415774  -14.75835890311153    0.01424018027431      C
    -4.62571600918362  -13.42006557474089    0.01863831011682      C
    -4.62736764715428  -10.73491602361514    0.01242098980902      C
    -6.95038079336808   -9.39373307092231    0.01680334148863      C
    -6.95133308962210   -6.71090031366241    0.00090380868302      C
    -9.27476524646564   -5.36821742065988    0.01178030625457      C
    -9.27533339671593   -2.68485353973606   -0.00231033496080      C
    -11.59787360651856  -1.34260534045207    0.02135506170263      C
    -11.59745068752896   1.33955735868324    0.02298651955359      C
    -13.92192257973364   2.68366014719780    0.03914165233406      C
    -13.92036096657948   5.36302236813028    0.04064385266738      C
    -16.24792328251901   6.70855282514918    0.04361821519152      C
    -16.24147615250140   9.38790299655651    0.04161076998710      C
    -18.57822844610177  10.73719689983221    0.03625356987397      C
    -18.53806361254074  13.40498631180656    0.03100025552110      C
    -2.31058909069799  -22.77851489196588    0.00552566327906      C
    -4.62065998803817  -21.47950499237132    0.01061383324781      C
    -4.62847939659439  -18.78039935958115    0.01618656929276      C
    -6.94935175726657  -17.44533609515958    0.02166057473898      C
    -6.95323753497934  -14.75880755480980    0.02432822026320      C
    -9.27274948273296  -13.41953395570261    0.02963035564454      C
    -9.27686319578444  -10.73443895850859    0.02914501084637      C
    -11.59630964771310  -9.39323418985186    0.03451459485246      C
    -11.59946809810477  -6.71055013917522    0.03159344355187      C
    -13.92101574291149  -5.36619421682606    0.03877005441630      C
    -13.92224827824791  -2.68683178017577    0.03806483594756      C
    -16.24563331495017  -1.34066372310614    0.04454000279460      C
    -16.24540018531201   1.33774736765144    0.04479708191013      C
    -18.56997383701733   2.68456696734425    0.04538882450699      C
    -18.56551946921603   5.36209334622057    0.04362492655707      C
    -20.89893941447967   6.71862640748693    0.03789971221054      C
    -20.86865960792762   9.36876159820730    0.03406103920853      C
    -6.97271504105007  -22.77586361153682    0.00935838286716      C
    -9.25669092524713  -21.48062873166514    0.01464909085110      C
    -9.28021281259710  -18.77810879610820    0.02202485039542      C
    -11.59052242604395 -17.44410052767191    0.02647854971243      C
    -11.60145002198461 -14.75911576806898    0.03137927696694      C
    -13.91795480666969 -13.41649851415307    0.03453120183778      C
    -13.92534496735509 -10.73623164754813    0.03777440130243      C
    -16.24240899490235  -9.39087823040052    0.03971902111664      C
    -16.24866335594347  -6.71158439878077    0.04219316440738      C
    -18.56607436613115  -5.36482318773708    0.04295591350027      C
    -18.57022407662064  -2.68731099765057    0.04509190423409      C
    -20.88994797246661  -1.33517424888670    0.04277804898084      C
    -20.88978625036696   1.33266943321888    0.04291787852488      C
    -23.21836627451592   2.70450487214013    0.03585894903904      C
    -23.19782862886721   5.33013495599820    0.03371371345388      C
    -11.64032273972809 -22.77163940053880    0.01115915464150      C
    -13.86940415391146 -21.48452960645214    0.01502776534082      C
    -13.94287827178937 -18.77473621915132    0.02304401301909      C
    -16.20643726826264 -17.44413581852868    0.02513847957228      C
    -16.25951045997595 -14.75902200044161    0.03084954628687      C
    -18.53937846949824 -13.40770271952225    0.03099249125201      C
    -18.57933718203032 -10.73994015797348    0.03538752690595      C
    -20.86957513685626  -9.37125530274323    0.03362309165171      C
    -20.89962154329600  -6.72113971988435    0.03730374506769      C
    -23.19836258846670  -5.33240814471403    0.03315712568452      C
    -23.21862068513432  -2.70678194350826    0.03552676773095      C
    -25.52851798119108  -1.28802447569940    0.02763182281201      C
    -25.52838492985103   1.28598364520524    0.02783532490532      C
    -11.59074743477874  24.77707891388043   -0.00207055884898      H
    -15.63049848787903  22.44499757871727    0.00040984411316      H
    -6.94540308066862   24.77708272726263    0.00778537837072      H
    -2.30018429394712   24.77698701522986    0.01354554184229      H
    2.34460212475362    24.77675298120243    0.01498054648190      H
    6.98981614929314    24.77638545989041    0.01047133295866      H
    11.63514864567720   24.77592617817733   -0.00059419108331      H
    15.67467228639966   22.44343307339889   -0.00554839493035      H
    17.99735162326968   18.42044292331396   -0.00133080202233      H
    20.31987807861223   14.39752412025016    0.00075767028149      H
    22.64207342343833   10.37489654749990    0.00121543673874      H
    24.96436574768334    6.35183557721443   -0.00080698816161      H
    27.28664220260683    2.32861760145338   -0.00578136872665      H
    27.28640564820459   -2.33596160759935   -0.00960137478787      H
    24.96372431773274   -6.35894471080062   -0.01081022165272      H
    20.31841982060585  -14.40417747214308   -0.01437162003127      H
    17.99548415384761  -18.42686695608501   -0.01481741044382      H
    15.67240208823021  -22.44961809552324   -0.01504494465218      H
    11.63264076908928  -24.78170207940770   -0.01131205807999      H
    6.98729771174079   -24.78169513478053   -0.00554121039303      H
    2.34207629593072   -24.78159117862833   -0.00244471816236      H
    -6.94792388368438  -24.78097008369372    0.00143591870114      H
    -11.59325572303425 -24.78050549978877    0.00307183887738      H
    -15.63277675112430 -22.44801045279661    0.01025313002253      H
    -17.95542715007054 -18.42502506940531    0.01944418368576      H
    -20.27793013719592 -14.40211610810697    0.02412835896849      H
    -22.60012212260829 -10.37950550619836    0.02541308819108      H
    -27.24471355908722  -2.33322146149556    0.01842467584446      H
    -24.92180552809367   6.35433430909949    0.02483191147934      H
    -20.27650298380673  14.39957792447903    0.02231622153851      H
    -17.95357304495687  18.42225756406583    0.01417966865466      H
    22.64102523397671  -10.38177606637344   -0.01282653219870      H
    -2.30271237654611  -24.78134786444018   -0.00066468432950      H
    -24.92242630623978  -6.35644775444972    0.02400571974929      H
    -22.59910878260334  10.37717801353707    0.02571014278132      H
    -27.24448188791929   2.33134552584358    0.01877626642906      H
    4.27571474378505    -1.92854948200207    9.94745802440185      N
    4.85863257632589    -1.86976812841619   11.77386435287947      H
    2.41997661925239    -2.42173187608252    9.97254129755107      H
    4.53188129867197     0.54201882289930    8.80305477310553      C
    3.10180400437508     2.58147803262171   10.25033240656862      C
    1.70252284002797     2.17538275447565   11.99395863899712      O
    3.59502480456652     4.91081582322646    9.40273172353399      O
    2.64101197107364     6.15144169604561   10.36051515045620      H
    6.53940694073007     1.05972961089276    8.80707208579245      H
    3.60684313919014     0.48755395354171    6.03553367623200      C
    0.79623558975634     0.11581314423023    5.88366583446487      C
    -0.24093223813749   -2.29403771457139    5.84928985318257      C
    -2.83094211079699   -2.64168158463332    5.81583719831421      C
    -4.43914545143533   -0.56757465165303    5.80885193908835      C
    -3.41896413800189    1.85508153404960    5.82002566936256      C
    -0.83164012890154    2.17804731008809    5.85479160455166      C
    -0.06058114066044    4.06926172450655    5.83858398852997      H
    -4.68432097650001    3.45280350209968    5.79576231758199      H
    -6.99839493428426   -0.81481618645066    5.77227418763592      O
    -7.44727356719986   -2.58190479542918    5.74085372355529      H
    -3.61086295708159   -4.53297500622820    5.78522163995966      H
    0.99207739459520    -3.92144387056497    5.83721740609899      H
    4.58691246909114    -1.06321033030212    5.09739729211277      H
    4.13984012793008     2.26724282543661    5.14389351386854      H
$end


$constrain
    atoms: 1-252
    force constant=0.5
    reference=coord.ref
$metadyn
    atoms: 253-276
$end

---